Catering
Restaurant Quai 5
If you are looking for a good restaurant in Mons, you're definitely at the right place at our Quai 5 restaurant. Restaurant Quai 5 is one of the most famous restaurants in Mons and the ultimate place in our hotel to relax and enjoy a delicious dinner.
In our restaurant, we make and serve everything according to the highest standards of quality and service. A warm welcome awaits you in our restaurant in Mons, every day from 12:00 until 23:00.
Watch our menu
In and around Mons, our restaurant is known for its delicious cuisine. Have a look at our menus below: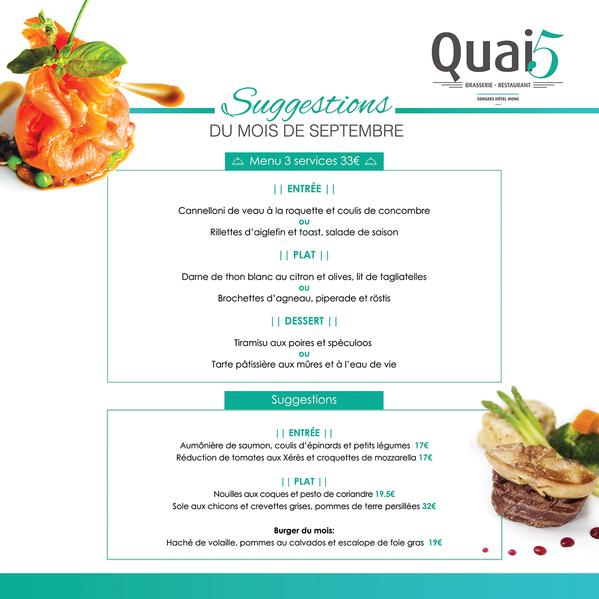 Would you like to dine in Mons? You can reserve a table at our restaurant by filling in the form below or contacting our reception desk
By phone: + 32 65 39 02 07
or by email: info@hotelmons.eu.
Reserve a table
Our menu has an international taste, offering a changing selection of suggestions inspired by seasonal products. Restaurant Quai 5 offers you the variety of a worldwide cuisine. For example as a Belgian specialty, you can enjoy our "Boulets Liégois", you can also have a taste of Asia with our selection of Woks, and a taste of America with our wide choice of Burgers. For the little ones, a special Kids' Menu awaits you at Restaurant Quai 5!
Special events at Restaurant Quai 5
In our restaurant in Mons, it is not all about dining. You can also join one of our special event taking place in restaurant Quai 5. Every month, a range of different Themed events are organized such as the Italian night, the Greek night, Jazz night, Flamenco night,…. These events combine a delicious buffet and entertainment. Every 2nd and 4th Fridays of the month, a live jazz band plays at our Restaurant. The perfect occasion to enjoy an evening of delicious meal and music!